We have the service of land freight transportation and distribution of your merchandise, articles and/or products, in large volumes in consolidated, partial or full load, you can send from a pallet to a full truck from 150 Lbs.
Less-Than-Truck Load (LTL) and Full Truck Load (FTL)
We are specialists in moving goods in large volumes, designing integral strategies of more efficient, flexible and safe transports, so that our clients feel calm and secure so that our customers feel safe and secure and in full control of their cargo.
Differences between Less-Than-Truckload (LTL) and Full Truck Load (FTL)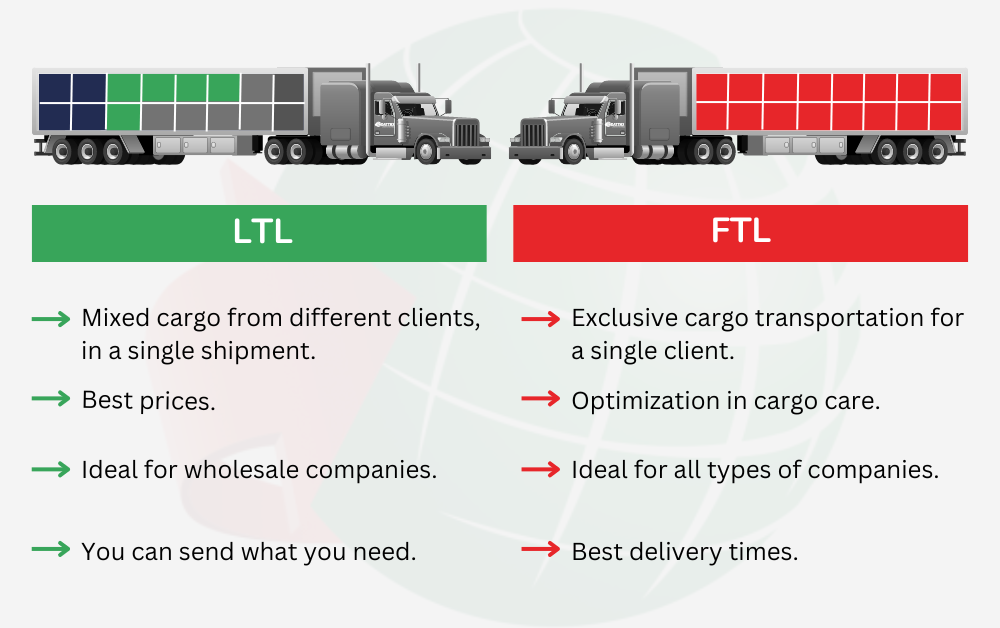 Specialization: The international mode maintains strict control parameters for mobilizing large volumes, including container shipping, especially to meet corporate requests.
Express: Gives priority to the transportation of cargo or merchandise, complying with certain customs requirements.
High level of logistics: As this is an international shipment, logistics measures are fine-tuned to offer complete storage, packing and final delivery processes, guaranteeing the integrity of the shipment.
Visibility of your cargo by gps: You can know the status of your cargo all the way to delivery.
Request your quotation by filling out the following form
Check out our special services in cargo transportation such as:
Moving Services (Manage)

White Goods Transportation

Heavy Commercial Cargo

Oversized and Overweight Tools

Heavy and Industrial Machinery